Places We Can't Understand: Anonymous Key WIndow On 13th Between Chestnut & Market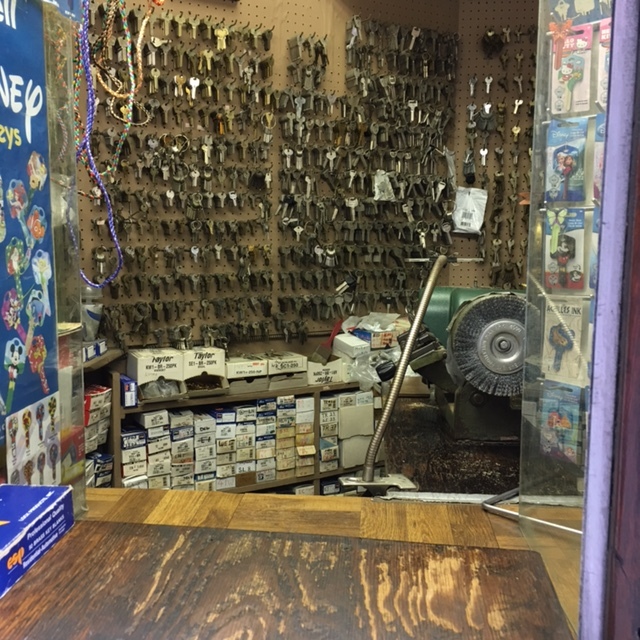 Everyone is all about the Tiny House these days, but what about the Tiny Business? By which we mean: Something smaller than a food truck, but let's say a little bit larger than a phone booth, that provides an essential, timeless service, but could also be a portal to another dimension. Oh, my sweet Anonymous Key Place On 13th Between Chestnut & Market — let's call it AKP13 for short — you are all of these things and more.
The footprint of the business is just this: Window, door, with a roughly 5 foot by 3 foot space behind. On the walls, possibly one hundred little hooks, all bearing different kinds of blank keys. In the middle, just a man and machine. You approach, and there is little to no dialogue. He knows what you want. You want keys made. This is all that is available. He takes your keys. You hand them over, never really breaking your stare into the little room behind the window; the eyes seem to want to gorge on this little delight, this strange zone, this salute to modern mercantile miniature detail and simplicity. Two pairs of a set of two house keys will run you $10. While you wait, you may be moved to take a picture of this magnificent small wonder, because it's so perfect. The man does not want you to take a picture. The man simply wants to make your keys. In a busy street, abutting a deli and a corner with Halal and fruit salad and, for the moment at least, Macy's and I. Goldberg, this business has announced its essential offering with complete transparency. Except it doesn't have a name (at least not one that's advertised) and it doesn't even seem to be moored to time as we know it. What is happening behind that window might be happening 100 years ago, for all you know.
What is known is this: It has something, sooner or later, you will need.
Related: Places We Can't Understand: The Comcast Get-Out-Of-TV-Jail Center